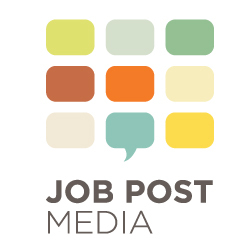 Corporate Sales Training Specialist
Sorry, this job has expired.
Louisville, KY
Health Insurance, Life Insurance, Dental Insurance, Vision Insurance, 401K / Retirement plan, Paid vacation, Paid holidays, Paid personal time
$55,000.00 – $65,000.00 Annually
Job Post Media, a recruitment solutions company is hiring a Corporate Sales Trainer. The position is located in our corporate office in Louisville, Kentucky, and reports to the President.

We are a full service recruitment solutions company dedicated to helping employers connect with job seekers in the most cost effective ways possible. Founded in Louisville, Kentucky nearly 25 years ago, the company now operates 12 offices primarily located in the Southeast and Midwest. What started out as a print focused business has now evolved into a well-established job board and the nation's leading job fair company. We utilize the most innovative techniques including mobile, digital, job fairs, and traditional media to connect employers with great job candidates.

We are looking for an experienced Corporate Sales Trainer to join our team! As our Corporate Sales Trainer you will help our company grow by improving our sales team's product knowledge, general industry knowledge along with sales and negotiation skills. Your top priority will be giving new and existing sales people the tools, skills and knowledge they need to be effective selling the Job News suite of products.

We offer:
• Competitive base salary
• Quarterly and Annual Incentive Bonuses
• Great working environment in our cutting-edge modern design office located in downtown Louisville.
• Health Insurance
• Company matching 401(k)
• Life Insurance
• Dental and Vision Insurance
• Excellent vacation/time off program

Sales are the biggest driver of our company's success so this position plays a crucial role at our company! Ultimately, the Corporate Sales Trainer will help increase the overall performance of our sales teams and ensure that our sales team of more than 40 reps has the skills and knowledge needed to achieve their goals.

Corporate Sales Trainer duties:
· Conduct remote sales and sales management training for new and current sales associates and develop individualized training plans for underperforming sales persons.
· Schedule orientations and related training events for individuals and teams
· Coordinate individual and team performance review sessions to discuss strengths and weaknesses
· Create training materials, educational programs, and other training collateral documents using traditional methods, and e-learning platforms (e.g. videos and case studies)
· Monitor phone conversations and provide sales people with feedback.
· Develop sales performance policies and methods for evaluating performance.
· Set objectives and KPIs for all sales training sessions.
· Stay updated with current market trends and the changing demands of the corporate sales environment
· Serve as advisor to our employees by answering all of their sales related questions and concerns
· Collect feedback from trainees and managers about training courses

Sales Training Specialist requirements
· A minimum of five years of experience as a Corporate Sales Trainer or similar role
· In-depth knowledge of sales training, sales process and best practices
· Prior sales experience with a proven track record is preferred
· Hands-on experience with e-learning platforms is a plus
· A sense of ownership and pride in your performance and its impact on company's success
· Critical thinker and problem-solving skills
· Team player
· Great interpersonal and communication skills
· Any additional relevant certification and training will be considered as an advantage

If this sounds like an exciting opportunity then we encourage you to apply today!

We are an Equal Opportunity Employer.
10520